IFPO Security Certification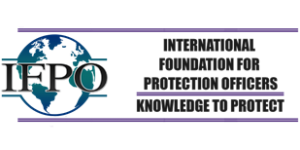 Security Certification
A nationally recognized certification program for high school and community college students.
Sponsored by:
The International Foundation of Protection Officers (IFPO) and
The Law and Public Safety Education Network (LAPSEN)
Background and Program Development
IFPO has been a leader in helping organizations and nations develop their security forces for more than 30 years. The security career field has expanded greatly over the years and now offers well-paying and diverse career opportunities in multiple fields and industries. LAPSEN chose the CPO program because it offers a challenging introduction to security that can be offered at both the secondary and post-secondary school levels. LAPSEN encourages the development of career programs that provide professionally recognized certifications that can provide jobs and thus funding for college. The CPO course can often be developed as a dual credit course. During 2008 and 2009 pilot sites in Arizona, North Carolina, Oklahoma, Texas, and two from New York developed lesson plans and began introducing the CPO program. Lesson plans have been aligned with the Security Pathway of the Law, Public Safety, Corrections, and Security Career Cluster.  In 2018 the IFPO entered into an articulation agreement with Purdue Global University, and upon successful completion of the CPO and CSSM Programs, our graduates will receive five credits each towards one of their degree programs.  Additionally, substantial enrollment discounts are available as well.
Typically, security organization partners provide enhanced starting salaries for high school graduates with CPO certification.
Elements of the Certified Protection Officer (CPO) program
Whether implemented at the secondary or post-secondary levels, the program contains the following elements:
1. The Protection Officer Training Manual as the main text in either a one or two-semester course;
2. A multitude of assessments including the end of chapter tests, evaluation process built into the lesson plans;
3. A preliminary CPO test and a final CPO test upon which the Certification is based.
Basic Requirements to be certified as an instructor of the Certified Protection Officer Program
Other than meeting state, district or education requirements to teach LPSCS career courses, neither IFPO nor LAPSEN have specific requirements for instructors. However, we do strongly recommend that instructors become certified as CPO instructors and some school districts expect that their instructors will be certified in what they are teaching. Such certification ensures that instructors are fully prepared to teach the course and help their students obtain the CPO certification. Because the instructor certification also includes the CPO certification itself, it demonstrates that the instructors have obtained the same level of certification that their students are seeking to obtain.
Often it is easier for instructors or the school to order both the instructor certification and student manual at the same time if both are desired.
1. The instructor must have 3-years experience in security, law enforcement, corrections or a related field.  Military experience may be utilized as well.
2. Each instructor must complete and pass the Certified Protection Officer exam before the certification Workshop,
3. Each instructor must attend the 2 and 1/2-day Certified Protection Officer Instructor Workshop.
4. The school and instructor will ensure that any State requirements related to security certification are built into the CPO Program.
5. The instructor must be a certified instructor at a secondary or post-secondary accredited educational institution or public-school system.
Costs: There are two phases to the instructor certification process.
1.  Phase I takes place before the Instructor Certification Workshop and requires the instructor to pass the CPO exam. This phase costs $132.00 but is reimbursed provided the instructor has taken the final exam before the workshop. The $132.00 total includes a $102.00 fee for the CPO exams and a $30 one-year introductory IFPO membership fee
2.  Phase II is the instructor workshop with standard registration being $350.00
Protection Officer (CPO) Program
The Protection Officer Training Manual is a comprehensive guide and instructional text which covers all of the subjects essential to the effective training of protection officers. There are 12 training units with each unit broken into chapters written by leading security trainers and educators. Included in the manual are self-quizzes at the end of each chapter and hundreds of diagrams and illustrations. The Protection Officer Training Manual is published by Butterworth-Heinemann and consists of 43 chapters authored by some of the security industry's leading professionals.
Units of study include such topics as:
Public Relations
InvestigationsReport Writing
Physical Security
Crime Scenes
Emergency Procedures
Safety Procedures
Workplace Violence
Environmental Crime Control Theory
Defensive Tactics & Officer Safety
Traffic & Crowd Control
Hazardous Materials
Effective Communications
Weapons of Mass Destruction " Apprehension and Detention Procedures
Fire Prevention
Strikes/Labor Relations
Crisis Intervention
Bomb Threats
Professionalism and Ethics
Police Security Liaison
Operational Risk Management
Foundations for Surveillance
Use of Force
Legal Aspects
And much more
Note: Lessons plans are available at no additional costs to all instructors.
Note: Because of the overlap between security and law enforcement subject areas, many career programs integrate the two career areas.
Costs
Protection Officer Training Manual for students: $56.95 for non-LAPSEN members and $49.00 for LAPSEN members.
Certified Protection Officer Exam: $102.00 per student for non-members and $65.00 for LAPSEN members
Ordering Information:
Non-Members should contact IFPO directly or go to http://www.ifpo.org/training/cpo/
All secondary school LPSCS in North Carolina and Missouri are eligible to make purchases at the LAPSEN discount rate. Send an email to adminifpo@ifpo.org and specify that you are ordering as a program in NC or MO.
All secondary and college LPSCS programs in Kansas are eligible for the LAPSEN discounts. Send an email to adminifpo@ifpo.org and specify that you are ordering as a program in KS.
Those individual or school/program LAPSEN members should contact Joe Coffee directly at jnc11@msn.com and he will facilitate your order.
Anyone interested in instructor certification should contact Joe Coffee for more information and to determine schedules for the certification course.