Preparing the Heros of Tomorrow
Students Today.
Industry Tomorrow.
Welcome to the Law and Public Safety Education Network – LAPSEN
We are a national non-profit association representing the career and technical education instructors, administrators and partnering professionals who focus on the Law, Public Safety, Corrections and Security (LPSCS) Career Cluster. LAPSEN was founded to help instructors and others make a real difference in students' lives. We provide resources, professional development, and connections to help them be more effective.
If you teach law and public safety, welcome to YOUR network!
Get our newsletter!
One teacher said, "it was my survival kit my first year and now it is like Christmas each month!"
LAPSEN is made possible by our members, partners and your support.
Ready to join YOUR network?
What's New On Our Site and Around The Country
Need some help coping with COVID?!
You are in the right place! LAPSEN is a network, meaning we are all here working together. Here are some things you might need!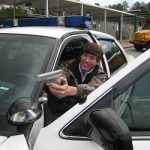 Tom Washburn from Georgia shares how he taught report writing during COVID. Ready to share. 
Through LAPSEN, Instructors certify through a novel program where they can then industry certify students.