Student CPO Certification
Textbooks
The IFPO textbook is The Professional Protection Officer. It matches the content perfectly. A digital copy is available at no additional cost for each regular text purchased.
Student Manual: $40 + S&H 
Bulk Order: Orders of 10 or more come with a bulk discount.
Email sandidavies@ifpo.org to order a text or get a quote for a bulk order. 
To offer the texts at this price, there is a four week print time. If you need the text quicker, we can connect you with the textbook company, but the cost is about double. Email info@lapsen.org if you would like to connect with the textbook representitive.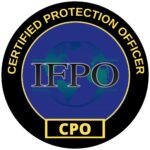 Youscience Is Our Assessment Host
Youscience is the best in assessment delivery! They have awesome support, customer service, smooth product delivery and testing metrics. Click Here to learn how to order our Industry Aligned Certifications. 
Classroom Curriculum & Resources
Instructors who have completed the instructor certification will be given a password to the instructor materials.
PowerPoints for each unit
Instructor Manual PDF
Student Manual PDF