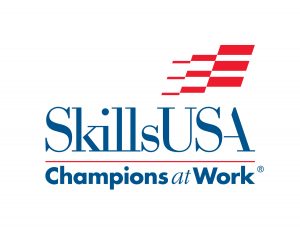 SkillsUSA is a partnership of students, teachers and industry working together to ensure America has a skilled workforce. We help each student excel.
SkillsUSA's mission is to empower its members to become world-class workers, leaders and responsible American citizens. We improve the quality of our nation's future skilled workforce through the development of SkillsUSA Framework skills that include personal, workplace and technical skills grounded in academics.
Our vision is to produce the most highly skilled workforce in the world, providing every member the opportunity for career success. A nonprofit national education association, SkillsUSA serves middle-school, high-school and college/postsecondary students preparing for careers in trade, technical and skilled service (including health) occupations.
Note from Dr. Thomas Washburn, LASPEN Executive Director, "Some of my favorite memories as a teacher were at SkillsUSA events. My students benefited immensely from the leadership training, the events and of course the competitions. People asked me why our program was so successful, I would state SkillsUSA was a huge part of our overall success. I personally made some of my best connections with other teachers who were the anchor of my network through SkillsUSA. I highly recommend you make it a part of your program today!"
SkillsUSA in 30 Seconds
The SkillsUSA Framework
Career Essentials
One of the many resources SkillsUSA offers to help students become career ready is the SkillsUSA Career Essentials Suite. This online curriculum engages students in defining, implementing and measuring their career-readiness skills along every point in their educational journey. Lessons are available for middle-school, high-school and college postsecondary students, as well as adult learners. SkillsUSA based the curriculum on key career-readiness skills that were identified as most needed for new hires through gathered data and scientific research. The SkillsUSA Career Essentials Credential is obtained through successful completion of the SkillsUSA Career Essentials suite. Successful completion of the program indicates students' proficiency in the understanding and application of career-readiness competencies and demonstrates their ability to successfully contribute to their place of work. The program also offers instructors the opportunity for professional development by becoming a Career Essentials certified instructor.
The Career Essentials program is backed by an investment of over $1 million from corporate America as well as supported by the U.S. departments of Labor and Education, making it one of the largest collaborative public-private partnerships in workforce development history. To learn more, visit: www.careeressentials.org.
2023 Proposed State Level Contests 
We hope to have these grow across many states. Once we have 15 states supporting these contests, we can move them to nationals for consideration. Feel free to reach out for more details – tom@lapsen.org
CERT – a competition for a team of two demonstrating their emerency prepareness skills – Click Here 
Tactical Response Team – a competition for a team of four demonstrating team tacitcal skills that includes a fitness challenge, tactical course challenge, and a scenario – Click Here 
Trial Advocacy – a competition for a team of two legal eagles who demonstrate thier skills in a mini-mock trial – Click Here